Aalto EE Alumni Community
With around 19,000 alumni worldwide, Aalto EE provides a valuable network for you to connect with your fellow alumni. We offer you access to the latest knowledge and an extensive global business network.
Our global Alumni network consists of graduates from Aalto EE's and its predecessors MBA, EMBA, and DBA programs, and participants of open enrollment and customized programs with a duration more than four months.
Our mission is to offer our Alumni access to the latest knowledge and an extensive global professional network. Together with our Alumni and Aalto University, we build lifelong networks and partnerships by providing developing opportunities enhancing our Alumni's personal brand, and by offering quality services and benefits. Aalto EE Alumni is a community whose members always see Aalto EE as the first choice when considering lifewide learning options and professional development.
Aalto EE arranges inspiring alumni events regularly, part of them together with Aalto University. Aalto University Alumni community consists of around 100,000 people from different fields including technology, arts and design, and business.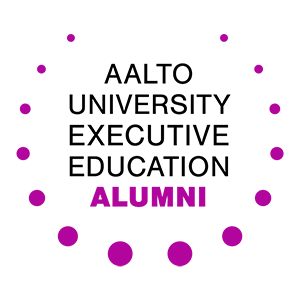 Aalto EE Alumni can participate in various study modules, selected open programs, and study tours with a specific alumni fee.
Social Media
Keep up to date, receive the latest information, join conversations and share insights with Aalto EE through social media:
After graduating, remember to add your education to your LinkedIn profile. Select Aalto University Executive Education as your school and fill in the program details to enhance your professional profile. For EMBA graduates, the official name of the program is Aalto Executive MBA, or the short form Aalto EMBA.
Further Information on Alumni Relations