Aalto University Executive Education (Aalto EE) provides high-quality executive education, professional development services and training supported by the competence of Aalto University. In Singapore Aalto EE operates under the name Aalto Executive Education Academy Pte Ltd. It is our mission to build a better world through better leadership.
Each year, around 6,000 people from 1,000 companies benefit from our impactful, goal-oriented and comprehensive learning experience. We nurture and develop the knowledge and skills of individuals and foster self-confidence. We build individual learning paths and meaningful careers, as well as architectures for developing competence in entire organizations. You will also create the best business networks with us.
Aalto University Executive Education is wholly owned by Aalto University, the leading university in Finland. With six schools, around 20,000 students and 4,000 staff members, it is one of Finland's largest universities. The university is named in honor of Mr. Alvar Aalto, the prominent Finnish architect, designer and entrepreneur. Aalto's achievements in technology, economics and art exemplify the spirit of integrated knowledge which is the foundation of Aalto University.
Read more about Aalto University and Alvar Aalto »
Through its cooperation with Aalto University, Aalto University Executive Education brings a multi-disciplinary approach and new, innovative learning methods to the development of experts and leaders.
Aalto University Executive Education has two strongholds: our Helsinki office coordinates our operations in Europe, while Asia-Pacific operations are led from Singapore. In addition to Finland and Singapore, Aalto University Executive Education offers education programs in China, Estonia, Indonesia, Iran, Lithuania, Poland, Russia, South Korea, Spain, Sweden, Taiwan, Tanzania, Vietnam and the United States.
Vision and Strategy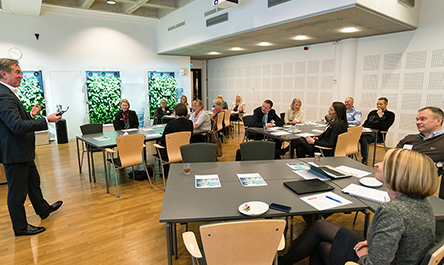 Our objective is to continue on the path of profitable growth and attain a turnover of EUR 30 million by the end of 2020. We aim at undisputed market leadership in the Nordic countries and consolidating our position as a major player among the best European business management trainers. We will build a position as a regional thought leader, leaning on Aalto University's strengths such as entrepreneurship, design, innovation and research and development. In Aalto University, art and science meet technology and business, which makes it a globally unique multi-disciplinary university.
We want to be known for impactful, goal-oriented, and comprehensive learning experiences and a unique customer experience. To our network of alumni, we offer diverse opportunities for constant improvement, absorbing new information and global networking. We work in an agile and efficient fashion, together with our strategic partners and extensive partnership network. As a thought leader, we nurture the high quality of our content and always offer the most up-to-date and relevant training contents to our customers. We do not resort to light and trendy subjects with unconvincing theoretic or empirical bases and no capacity to create long-term, measurable impact. We construct multi-faceted learning packages by combining the best of modern teaching methods and interaction channels. We manage our own operations on the basis of strategic capabilities, always taking the long view.
Financial Indicators
The operations of Aalto University Executive Education Ltd provide a sizeable income to the university community in various forms such as dividends, tuition fees and rents. In 2017, the financial footprint of Aalto University Executive Education in the Aalto community amounted to approximately EUR 3.1 million (EUR 2.6 million in 2016).
| Key Figures | 2014 | 2015 | 2016 | 2017 |
| --- | --- | --- | --- | --- |
| Turnover, MEUR | 17.0 | 17.1 | 19.3 | 20.4 |
| Operating profit, MEUR | 0.2 | 0.4 | 1.5 | 0.8 |
| Number of locations in which Aalto University Executive Education Ltd provides executive education programs | 10 | 11 | 12 | 13 |
| Number of personnel, on average | 107 | 103 | 91 | 100 |
Accreditations and Networks
Aalto University Executive Education Ltd is an internationally recognized executive education and leadership development organization. As a part of Aalto University we hold the 'Triple Crown' of accreditations, the three most respected business university accreditations, granted to only 0.5% of world's business schools: AACSB, AMBA and EQUIS.

One of Aalto EE's strengths is diverse international network through which we keep ourselves up to date on the latest international knowledge and trends: UNICON (The International University Consortium for Executive Education), EFMD (The European Foundation for Management Development) and PIM (Partnership in International Management). Aalto University School of Business is also a member of CEMS, a network united by the leading European universities and major companies.
Financial Times Rankings
Aalto EE ranked 39th globally in the Financial Times Executive Education overall ranking in 2018, and therefore is within the top one percent of executive education providers in the world. The Financial Times ranking includes only the top 50 executive education providers. Globally, executive education and MBA programs are offered by around 4,000 institutes.
In 2018, Aalto Executive MBA was again the only Finnish program to hold onto its place among the top 100 in the Financial Times' annual global ranking. Aalto EE's EMBA program ranks 46th in Europe and 93rd overall. Over 3,000 EMBA programs are currently being offered around the world, with only the top 100 making it onto the Financial Times' ranking.